Driving Lessons; Learner Drivers
The Road To Success
What does "learning to drive" mean to you? Personal independence? Better career opportunities? Exciting travel and holidays? Necessary for the "school run" or University? Whatever the reasons for becoming a driver, you'll need 1st class, professional preparation and foundation. No matter if you are confident or nervous; we'll work to your speed and your ability – to turn you "the Learner", into you: the Safe, Competent & Courteous Driver.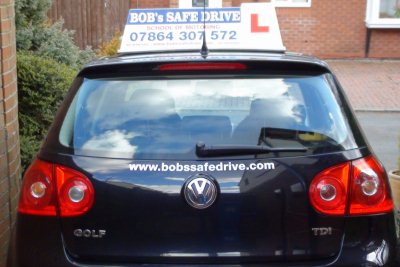 Learning To Drive in Runcorn, Widnes Cheshire;

first things first …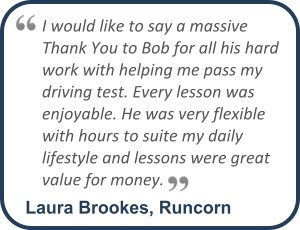 Provisional Driving Licence
In the UK you are legally allowed to drive from your 17th birthday and can apply for your Provisional Driving License (either online or via a post office form) up to 3 months beforehand (If you receive the higher rate of the mobility component of Disability Living Allowance, you can drive at 16). This currently costs £50.
Note that certain rules apply to minimum eyesight requirement and proof of identity;
up to date info can be found here.
Insurance and "L" Plates
If you are going to practice driving between driving lessons – something we very much encourage – you must have "L" plates on the front and back of the car you are using
You can drive only with an adult who passed their test 3 or more years ago and who is over 21 years of age. In addition their car must be totally roadworthy and taxed.
You must have adequate insurance or be covered on the insurance of the driver who is helping you practice
When you take lessons from us or any reputable driving school, the car you learn in is already insured
Theory Test
Your Provisional License also enables you to sit your Theory Test but we would very much recommend having some professional driving lessons first.
Our Learner Driver Car
Golf 1.9tdi "Match" in black
Dual Controls
Air Conditioning
Anti-lock Braking System (ABS)
ESP (Electronic Stability Programme)
Electric Windows
Alloy Wheels
Tinted Windows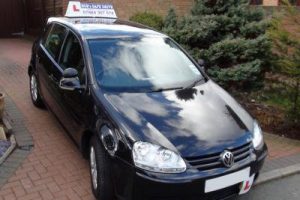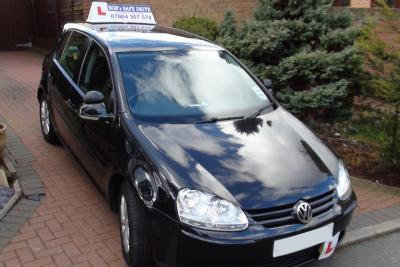 Electric Mirrors
Automatic Windscreen Wipers
Automatic Headlights
Steering adjustment – in/out and up/down
Driver's seat height adjustment – up/down and backward/forwards for leg length
Beginners
Once you have your provisional driving license we can help tailor your driving lessons around you and your life. We'll recommend how much time and how many lessons are suitable, in order for you to achieve your own personal aims.
We usually recommend starting with an hour-long lesson and once confidence improves,
students could up this to 2 hours a week or longer
The DSA recommend a minimum of 40 hours-worth of driving tuition "on the road" before
taking a practical test; but this will depend on your ability and so can vary up or down
It's always preferable not to have a "time limit" and take things at a steady pace – but we understand that in real life there may be a particular reason why you need – and not just want – to learn to drive, and we'll listen and take that into account. Of course we'll be encouraging you, once you are confident as a learner driver, to practice with family and friends. However, remember that friends and family can't stop the car in the way you're driving instructor can in the unlikely event you do something silly. So keep these sessions "formal" and have a plan for them – that way you'll get the best out of them.
Note that as Bob is qualified to deliver the "Engage Merseyside" scheme, we'll be including this naturally into lessons, as we go along – a huge benefit to Bob's Safe Drive pupils…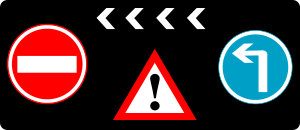 Highway Code
Start learning your Highway Code as soon as possible; here is a link to an online version:
www.gov.uk/browse/driving/highway-code
or you can buy one at the Post Office or well-known newsagents.
What you can expect from Bob's Safe Drive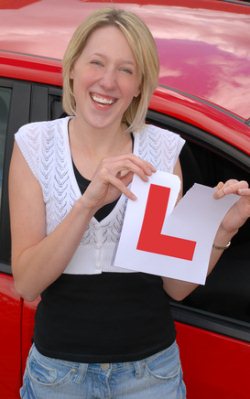 We'll get you used to the car
We'll recommend the best sort of clothes to be comfortable for the lessons
We'll ask you to be sensible regarding any medicines you need to take – if they make you drowsy then we'll re-arrange a lesson; if you are hung-over we expect you to tell us and re-arrange
We can pick up and drop off at your home, work, college etc.
We'll assess your aptitude for driving and track your progress with your own Driver Assessment Log
That includes both "handling the car" and how "road savvy" you are
We'll always help and practice anything you find tricky with your driving tuition – a particular manoeuvre for instance
We'll prepare you for different extremes of traffic on different sorts of road;
Motorways are not possible until you pass your practical test but dual carriageways are possible
We'll encourage you to start preparing for (and booking) your Theory test quite soon after lessons begin
We can recommend other learning aids you may find useful
We'll encourage you to practice with family or friends
We'll encourage you to take a Mock Practical Test with us
This will help pinpoint any weak areas that we can practice before your actual test
Once you are ready we'll happily recommend you take your practical car test (you'll have had to pass your theory test first!)
Learners with Disabilities:
It's possible we can help you learn to drive but it's best to chat to us first. It may depend on the nature of your disability as to whether our learner car is suitable for your driving tuition needs, so give us a call or email us and we'll give you honest advice.
Cost of Lessons
Engage Merseyside
Bob's Safe Drive is very proud of being approved to deliver the "Engage Merseyside" Scheme. The scheme helps learner drivers to pass their test and then – having passed – to become a better driver and stay safe on the road. The "Engage Merseyside" Scheme is collaboration between the Merseyside Road Safety Partnership – consisting of Merseyside Police, the Fire Service and Local Councils – and approved driving instructors. Those instructors must undertake specialist instruction before being allowed to deliver the scheme.
Novice drivers can be vulnerable on the road and – as your driving instructor – Bob will be asking you to consider how you would react in a number of different driving related situations which will better prepare you for the time after passing your test. There will be homework too and you'll have the opportunity to attend extra workshops given by road safety experts.
As Road Safety GB says "Topics covered in the scheme include distraction, influence of others, fatigue, speed, drink and drugs, medication and seatbelts."
If you have any questions for Bob about the "Engage Merseyside" Scheme then, as always, just contact Bob's Safe Drive.
Lessons for Lapsed Learners
It's not uncommon for learner drivers to lapse and there are all sorts of reasons it might happen, for example:
being nervous behind the wheel
failing your practical test
not being comfortable with your instructor
a change in life style leading to difficulties making time for lessons
But whatever the reason, we'll work with you to tailor lessons to suit your way of life and to concentrate on anything you are unconfident about.
Remember that as a lapsed learner you already have an advantage over "learning from scratch" and probably underestimate the skills and experience you already have in the car and on the road. Bob's Safe drive will harness that and build on it – till you are ready for that practical test.
Cost of Lessons
Prices for both "learners" and "lapsed learners" are the same.
Here is a full list of all driving lesson prices;
it includes any special offers we currently have available
Payment can be made by cash or cheque , before the start of each lesson
For Block Bookings, payment is made in full at the start of the 1st lesson
Lessons can be booked for Mon-Fri: 8:30am until 5pm, and on Saturdays: 8.30am – 1pm.